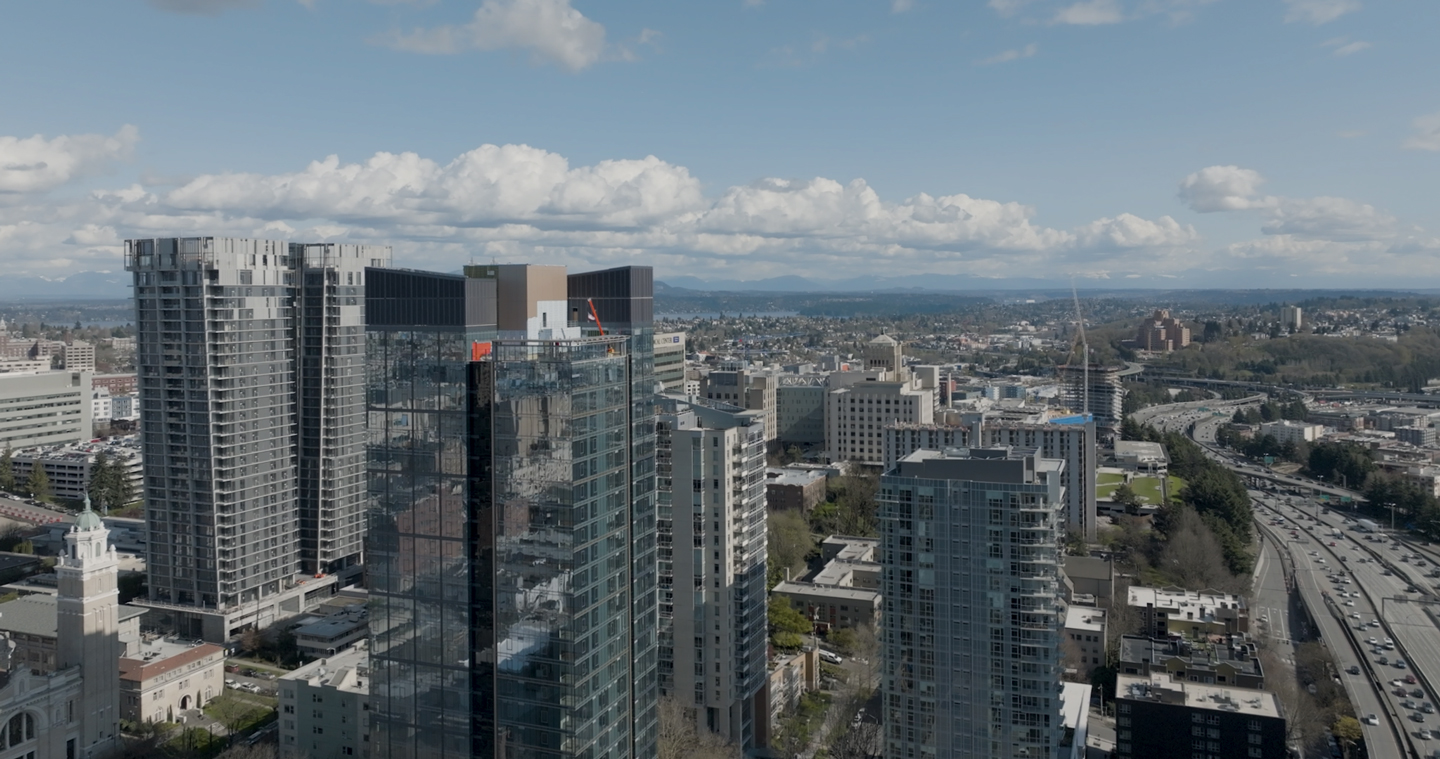 As the Graystone condominium tower on Seattle's First Hill nears completion, fewer than 10% of the 271 homes have been sold, prompting developer Daniels Real Esate to cut prices and offer buyer incentives.
On Tuesday, the Seattle-based company said in a press release that it's "taking the lead in the condominium comeback" with the price reduction. A two-bedroom, two-bath condo in the upper third of the 31-story building that was originally listed for just over $1.35 million is now being offered for over $1.185 million. The price for a one-bedroom unit three floors down has been reduced 27% to $465,900.
The condo market, like the housing market overall, is sluggish, with April's median sales price downtown off 11.5% year over year, according to the Northwest Multiple Listing Service. Only 40 sales closed last month, 15 fewer than April 2022. The situation is not unique to Seattle. The median sales price in downtown Bellevue last month fell 17% year over year, to $795,000.
The Graystone marketing team is promoting the homes at the tower at 800 Columbia St. as the last of their kind for the foreseeable future. A half-dozen in-city condo projects in the pipeline have either been paused or converted to for-rent product. The typical condo tower can take five to six years from concept to closing, said Luis Borrero, vice president of brand at Daniels Real Estate. "We anticipate the impending lack of supply will create upward pressure on values by 2025, but today we are saying Seattle is back and Graystone is priced to meet the market," Borrero said in a statement.
Dean Jones, CEO of Realogics Sotheby's International Realty, said today's lack of new condo supply is reminiscent of 2010-15, when no new condo towers opened downtown. He said it's "a real opportunity" to buy "at the bottom today." The difference between the Great Recession is there's no distress in the market, with mortgage lenders using new guidelines to avoid credit risks.
With the price cuts, prices are a third below the replacement value, according to the development team. The homes, including parking, are being delivered at around $1,030 per square foot overall. A similar new build would require at least $500 per square foot more, or about $1,530, to pencil again.
"Every developer is going to take a loss, so it's a matter of getting under the market, building momentum, rewarding those who buy today," Borrero said. Daniels is also offering "a limited time price protection" through an appraisal contingency program during pre-sales and a 2-1 interest rate buydown, which provides buyers a two-year window to secure lower rates until the tower meets Fannie Mae conformance for warrantability.
In addition, Graystone will not collect homeowner association dues in 2023. These incentives were offered retroactively to the two dozen presale buyers. Qualified first-time homebuyers receive an additional perk with a 3% down payment program.
Source: Puget Sound Business Journal  |. May 17, 2023