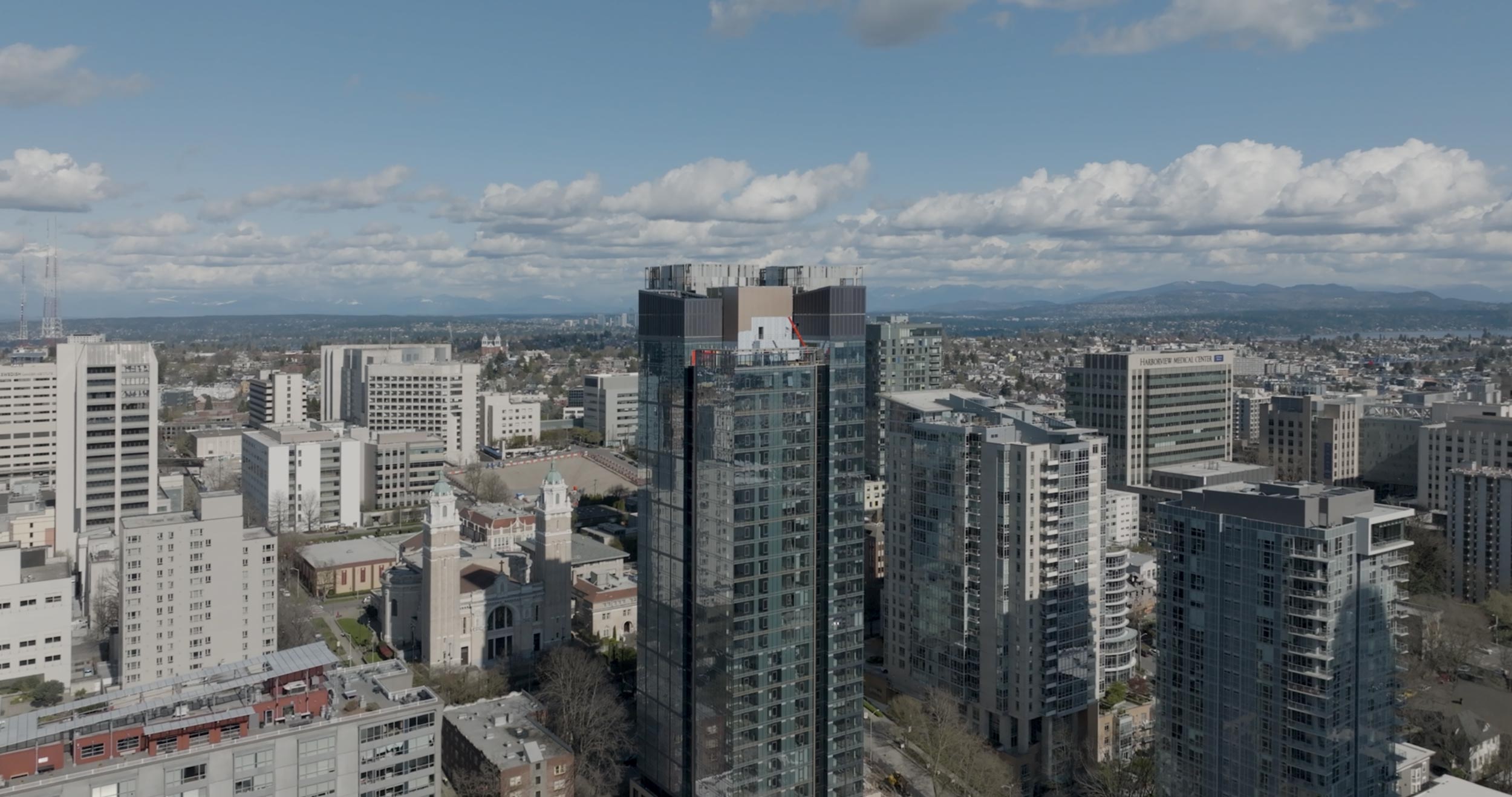 Daniels Real Estate still hopes to open its 271-unit, 31-story Graystone condominium tower this summer. Realogics Sotheby's International Realty has been leading the pre-sales effort, while Andersen Construction wraps up at 800 Columbia St., on First Hill. (Work began in the fall of 2019; LMN is the architect.)
Pricing was announced last fall, up to the premium penthouse units. As is normal for any big, costly condo project, incentives were announced then. RSIR's numbers indicate that 25 Graystone units are under contract with buyers; that's about 10% of the total.
And today, confronted with high interest rates and a lagging residential market, new incentives and price cuts have been announced. Thus, a lower-floor studio with 520 square feet is listed at $389,900. A two-bedroom on the eighth floor, with 1,053 square feet, goes for $999,900. Upper-floor units go for much more.
Much has changed since the project began, pre-pandemic. (Besides COVID-19, it also had to contend with the concrete strike.) Daniels vice president Luis Borrero said in a statement, "Daniels Real Estate has navigated a challenging time. We kept building, never paused, even though we knew we would face challenges like today."
But with construction nearly complete, say Daniels and RSIR, Graystone prices are one-third below their hypothetical replacement value. In other words: Interest rates, labor costs and materials have risen since the fall of 2019 to the point that, if the same building started now, the same units would cost 33% more to build — with prices set accordingly.
But while Graystone's pricing may be relatively cheap compared to future project values, price cuts and other concessions are necessary sweeteners. Daniels is offering what it calls an appraisal contingency program, plus a 2.1% interest rate buydown for the first two years of ownership. Under a federal program, first-time buyers can also pay only 3% as a down payment. And for brave buyers this year, there will be no homeowners association dues for 2023. All those measures are retroactive for prior buyers, too.
"Graystone is priced to meet the market," says Borrero. Ahead, "We anticipate the impending lack of supply will create upward pressure on values by 2025."
Today, RSIR says that only two downtown condo towers are under construction, Graystone and Westbank's First Light (expected to open next year in Belltown); the two total some 724 units. And, with all other downtown condo projects on pause, or outright abandoned (see: Bosa Development's 339 Cherry project), Dean Jones of RSIR believes the condo market is at yet another inflection point between cycles.
"We've seen this dynamic before," says Jones, citing the Great Recession, "and it's a real opportunity for consumers to buy at the bottom today as the market regenerates." His firm says the last condo peak was during 2018–2022, with 1,520 condos coming to market in 15 new projects. About 20% of those remain unsold, and are likely being offered at discounts.
Using RSIR's math, that means about 314 new units remain among completed rivals including the Emerald, near Pike Place Market; Spire in the Denny Triangle; and Koda in the International District.
Source: Daily Journal of Commerce | May 18, 2023